Esta publicación también está disponible en:
Español

Time creeps by slowly at the San Dimas shelter where hundreds of Haitians and Africans wait day after day for a miracle to open the closed border between Costa Rica and Nicaragua, just 5 kilometers away.
In a 500-square-meter common room mats compete for space with scattered baby pacifiers, diapers, food and small pieces of luggage whose only contents are a few photographs of what were once passports. Mothers bathe their children in sinks while others wash dishes next to them. Some pass the time brushing their hair. Others blankly stare at cellphones for hours on end.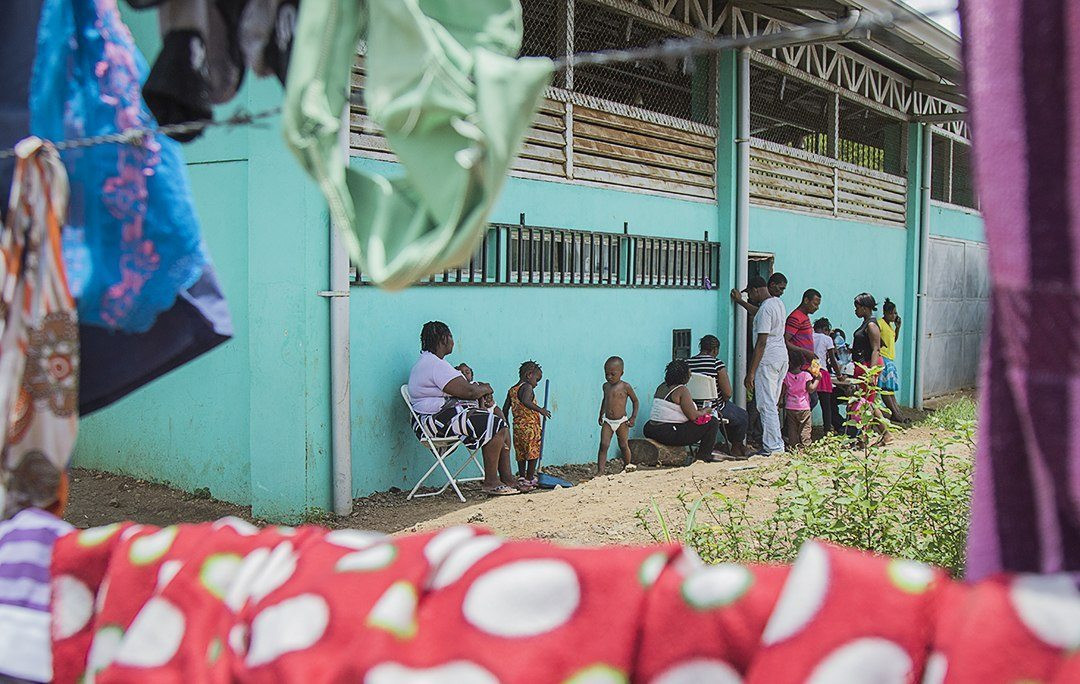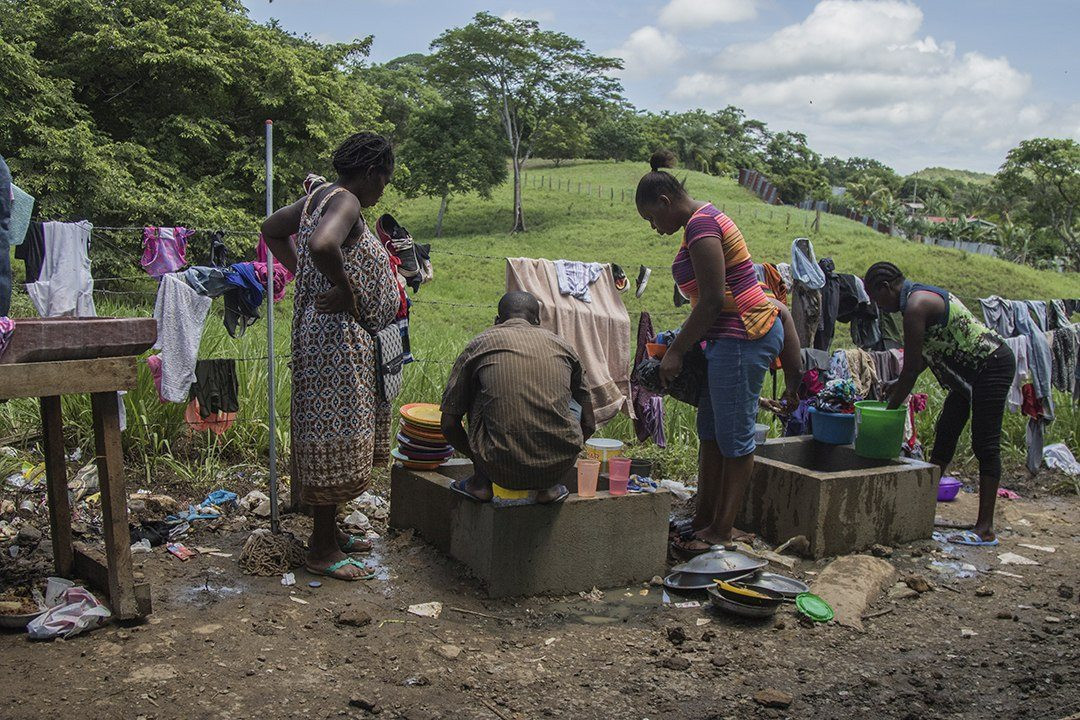 Washing clothes is one of the main activities in the community hall. The migrants take advantage of the entire perimeter and the neighbors' fences to hang their garments.



On a recent Wednesday in July, the goal of most of the people here was just getting through another day. It has been that way for three months, when the local municipality's emergency commission opened this shelter.
"I don't even know what day it is," says Sammuel, a Nigerian whose badly burned skin tells the story of pain and suffering at the hands of Islamic extremist group Boko Haram. One day, the terrorists stormed his church, setting it ablaze and burning the Christian worshippers inside.
For Sammuel, time has stood still since the decision by Nicaraguan President Daniel Ortega on Nov. 15, 2015 to close its border with Costa Rica to the waves of migrants gathering here – first Cubans, and now Haitians and Africans. Sammuel has failed three times to cross Nicaragua's border by attempting to trek across the rugged mountain forest. He lost $3,000 to smugglers in the process, and now he says he will try no more. But he also says he has nothing left to lose.
The others here are in limbo, too, with no money to return to their own countries or to try their luck with smugglers. Going back home, where they were poor to begin with or where they faced death threats, isn't an option. They have WhatsApp messages and Facebook photos to prove their stories to anyone who will listen.
The Costa Rican government is keenly aware of the migrants' plight. Communications Minister Mauricio Herrera says this new wave of migrants hopes for similar treatment as the Cubans received, but it's simply not possible.
"We can't deport them, we can't provide them an air bridge, and Nicaragua won't let them cross. We can't do anything with them," Herrera says.
Two weeks after this interview, the government has begun a process of detaining and deporting them to their countries of origin. Borders also have been closed to new migrants without proper documentation because Costa Rica lacks the resources to process them, according to President Luis Guillermo Solís.
La Cruz, already ranked as Costa Rica's second to last canton in terms of social development, now faces another challenge: The migrants here want to leave, but they can't.
Doing What They Can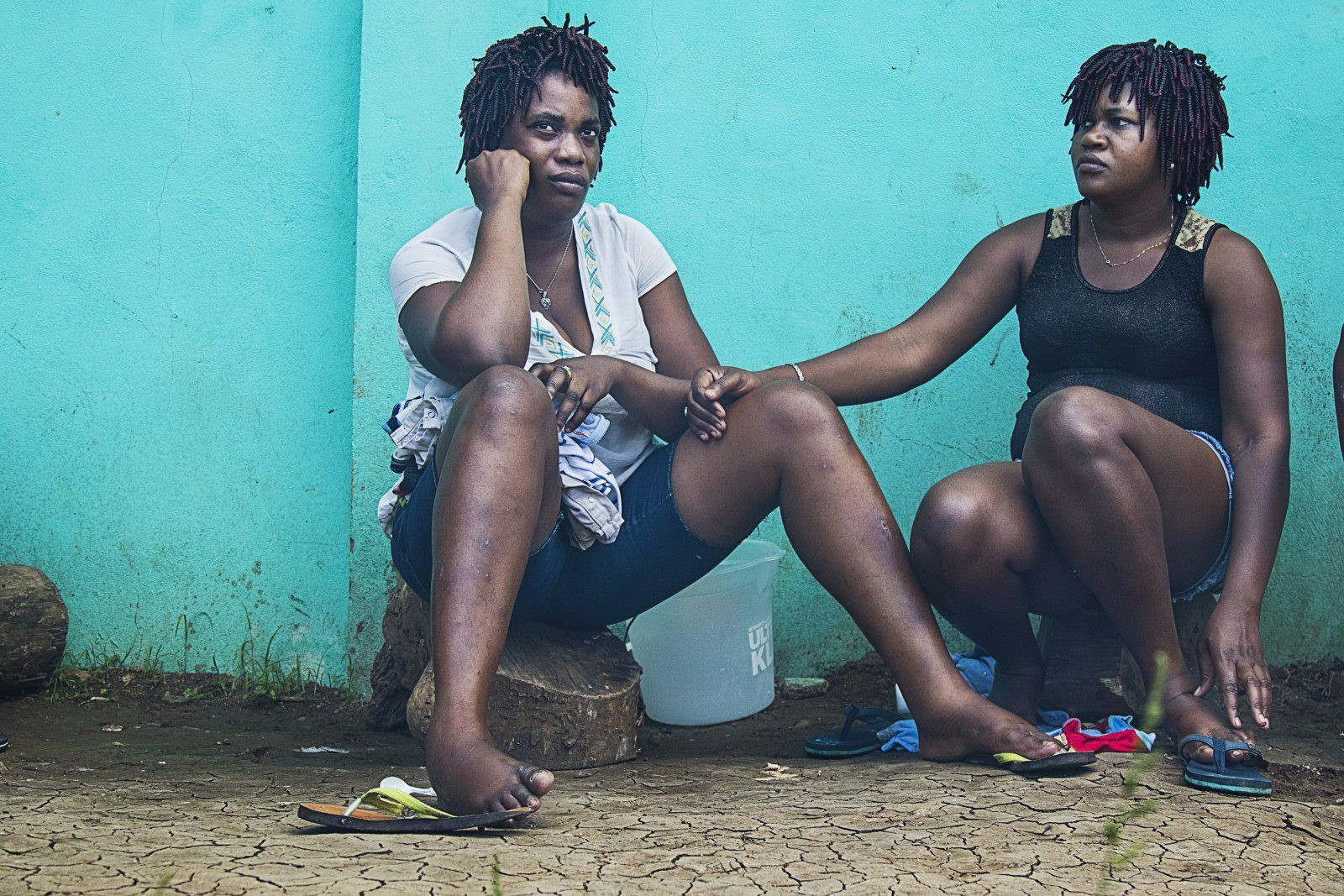 Egina Sama (26) and Emensa Angela (30). Congo. 

"We have not eaten or slept well in weeks. We traveled by boat to Ecuador from the Congo with our children in our arms and we went up through the jungle with them until we reached Panama. We want to go to the United States to work."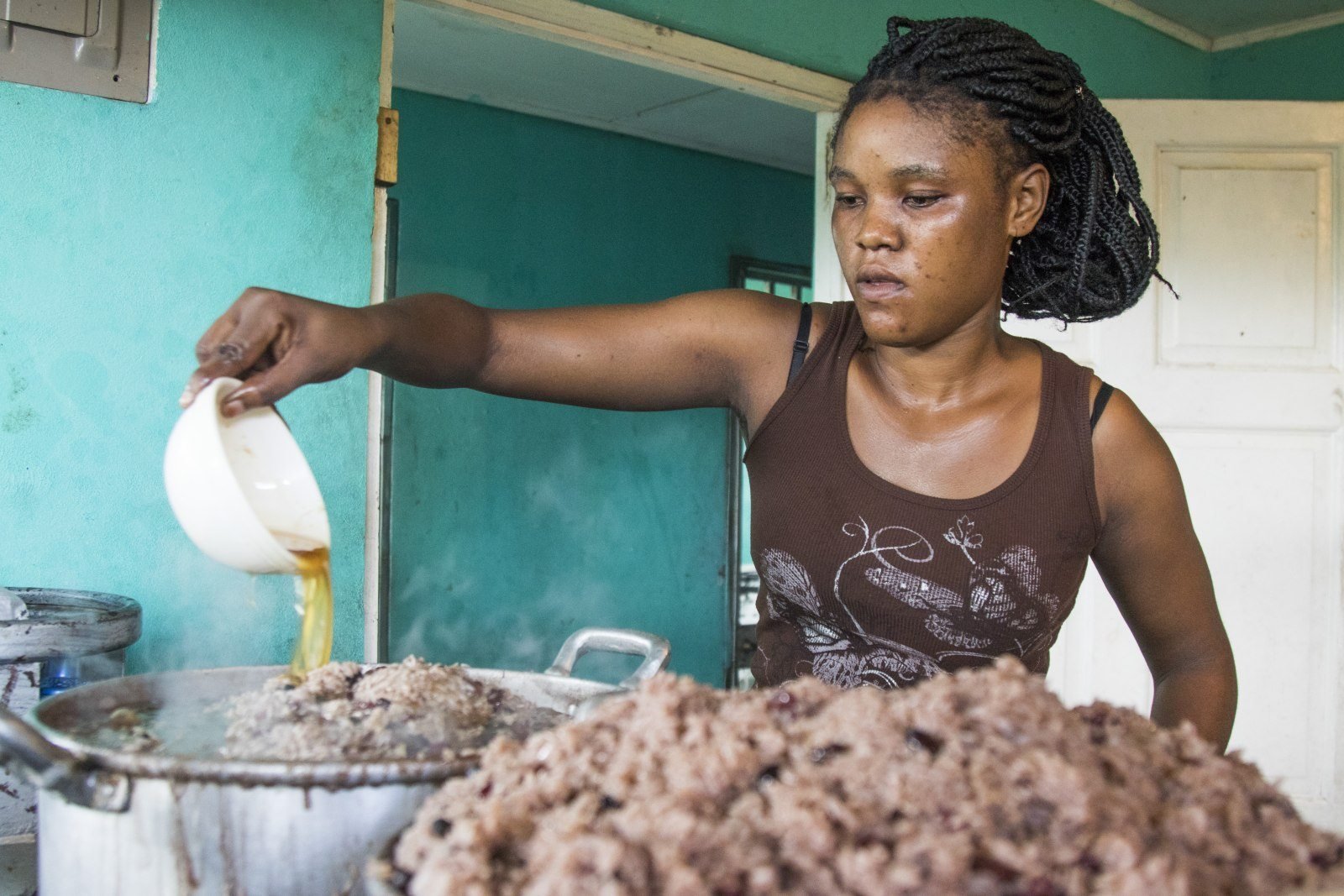 Muinga Mirielle is one of the cooks from the Haitian group. In the kitchen, they call her "Sexy" because she moves very gracefully. Alongwith two other Haitian women, she prepares three pots of rice and beans to feed about 150 people.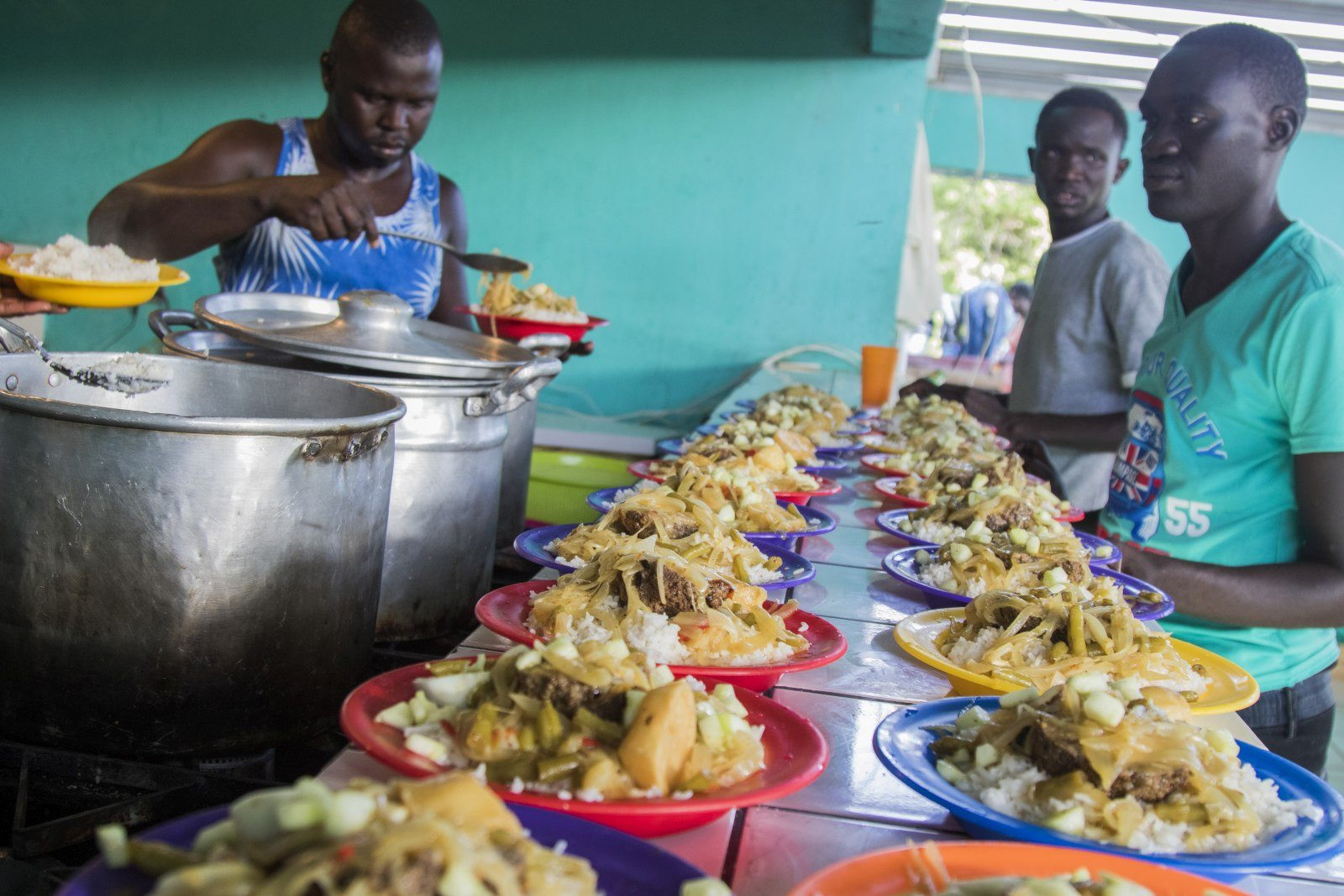 After waiting for two hours for the Haitians to finish using the kitchen, the group of Africans serve a dish of food in a very orderly fashion. The dish from Senegal, called Farci, contains onion, garlic, pepper, rice, meat and egg.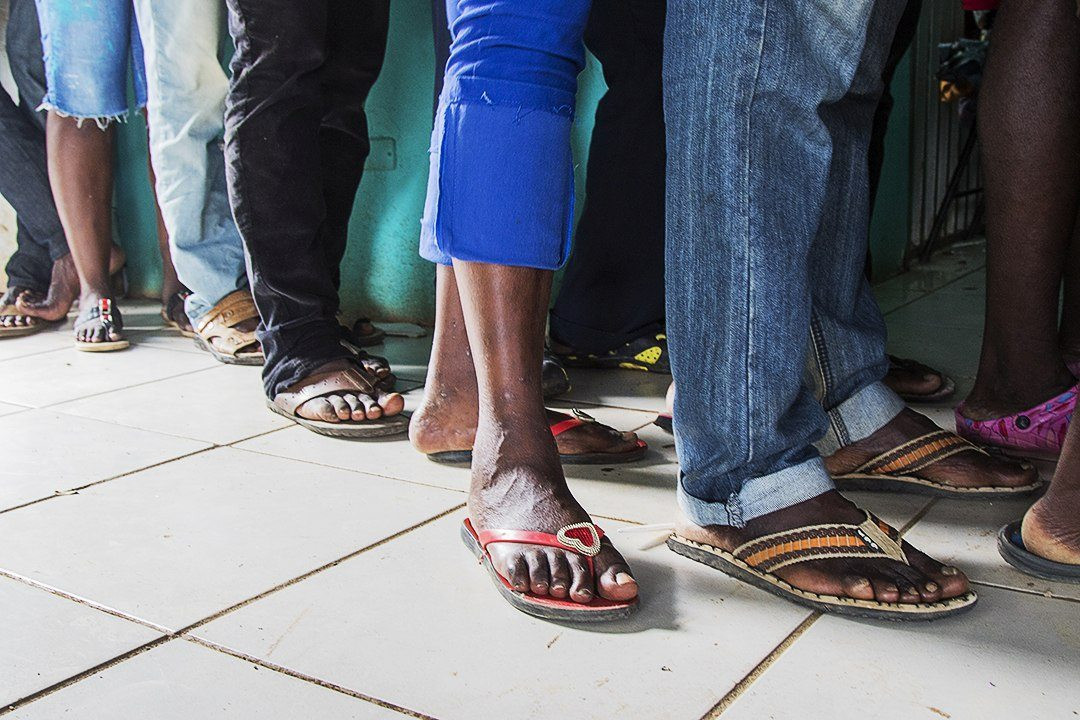 The Government estimates that 300 people are living in this shelter, including men, women and their children.
It's 3 p.m. on a Thursday afternoon in July and Red Cross paramedic Christopher Elizondo tries – and fails – to organize the tumultuous group that simultaneously shouts, laughs and cries while they eat.
This is the closest that Christopher and other members of the community of Las Vueltas de La Cruz will get to the violence and chaos caused by Boko Haram, or to the repression against those who speak freely in Ethiopia, or to the extreme hunger faced by countless Haitians after the devastating earthquake of 2010.
In this neighborhood, with its dozens of humble homes built with government bonds, some neighbors are concerned for their security. Others try to help with what they can, loaning a cellphone charger, withdrawing money from Western Union or bringing a simple cup of coffee.
"I let them (the migrants) camp here in my yard because it's not a bother at all," says Yuzel Rodríguez, who lives next to the shelter. "I heard the local (development) association was going around collecting signatures to remove them, but as I said before, I'm not signing anything."
Other locals worry about the spread of dengue, Zika and other diseases they worry the migrants might bring with them or that could proliferate in the stagnant water accumulating at the entrance of the neighborhood, a large, green breeding ground for mosquitoes.
But at the shelter not a single mosquito is found, thanks to fumigation efforts by the Health Ministry. The only buzz here are the stories of horror – families who have hiked for six days through the rugged and unforgiving Darién Gap between Colombia and Panama, and the months-long journey on boats from Africa. Others have fled Brazil, where they once worked but had to leave because of the economic downturn there.
The Journey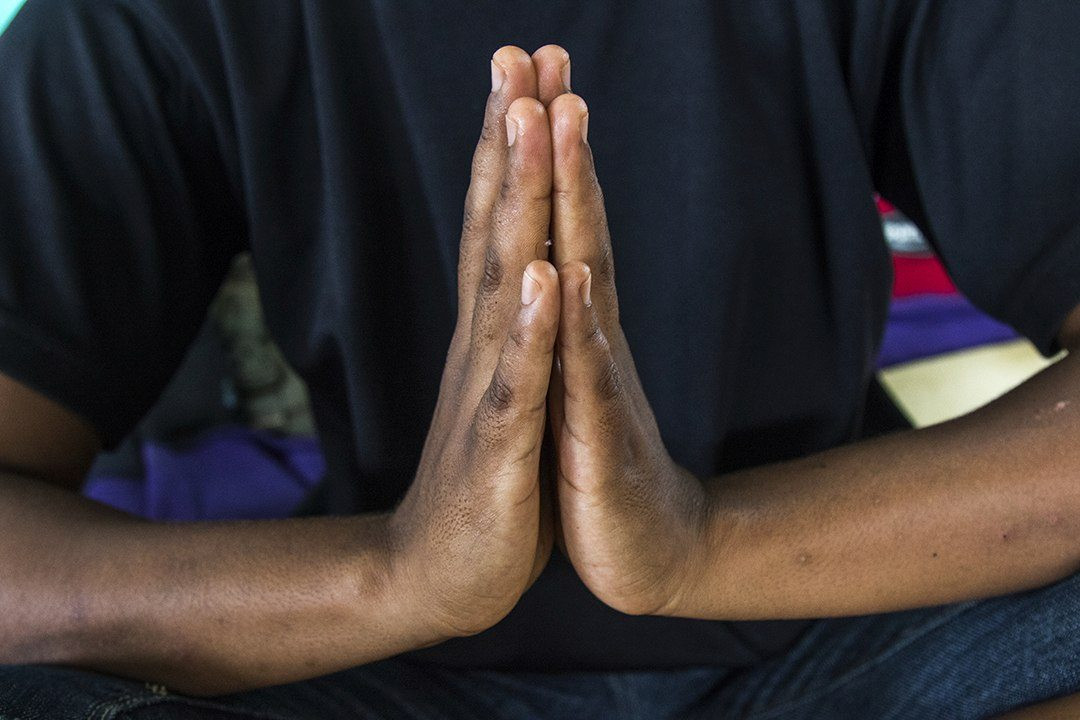 Mitta, 25. Ethiopia. "(Between Colombia and Panama) I hiked for six days through the mountains, it rained constantly, I lost my documents, but I arrived. In Nicaragua, on the other hand, they leave you in the jungle and you have to find soldiers because you're dying of thirst. They don't say a word, but they send you back without any money".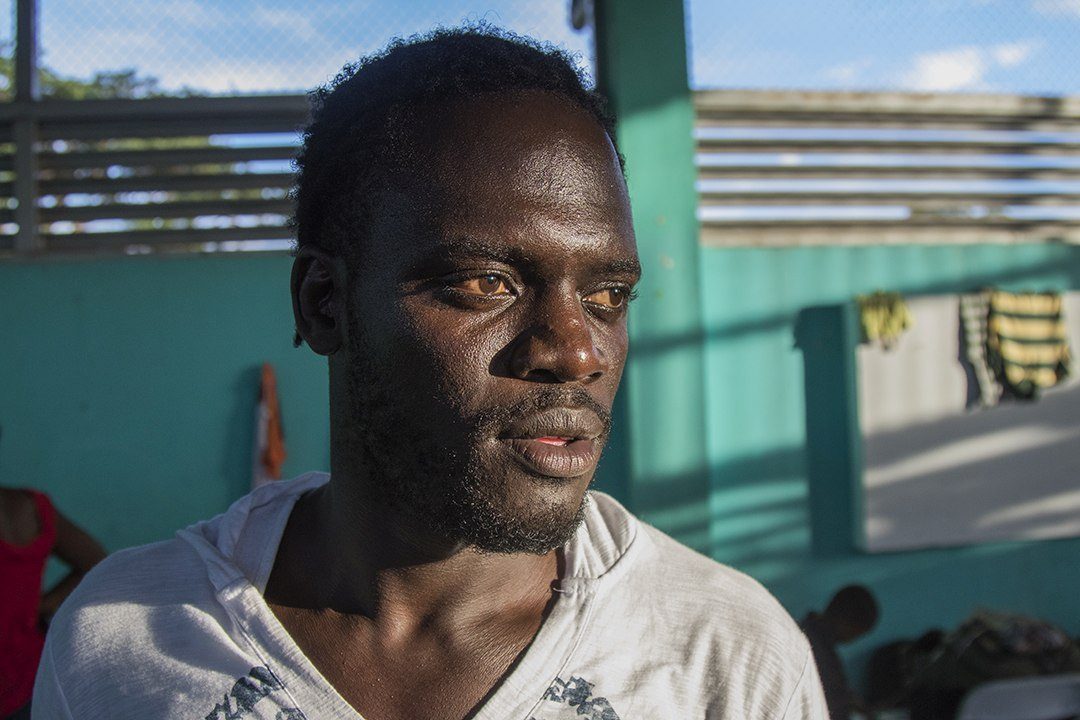 Fallou Sourang. Senegal. "I got to Costa Rica seven months ago. I was among the first migrants. In Africa, I worked as a salesperson and earned about $350. I paid $400 to a coyote (term used for someone who smuggles people across the border) to take me to Nicaragua. He ended up stealing everything from me."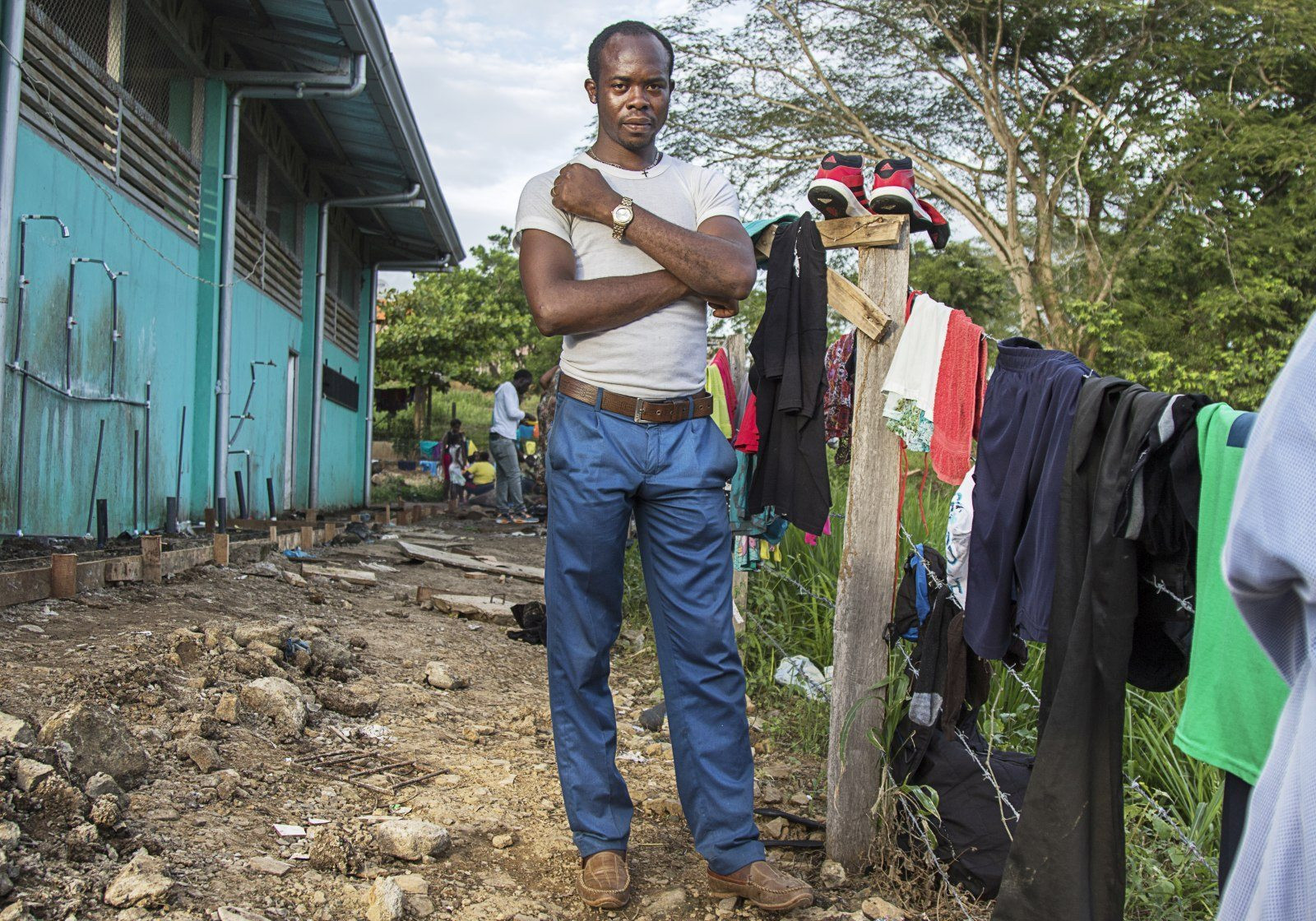 Tabit Rodulf, 30. Cameroon. "I just want to keep walking, keep going. Going to America has been my dream since I was a child. I am an engineer and I supervised works in Cameroon. I want to work to send money to my wife. I spent a week in the jungle without food and cut off from communication. If I had known what was waiting for me, I never would never come."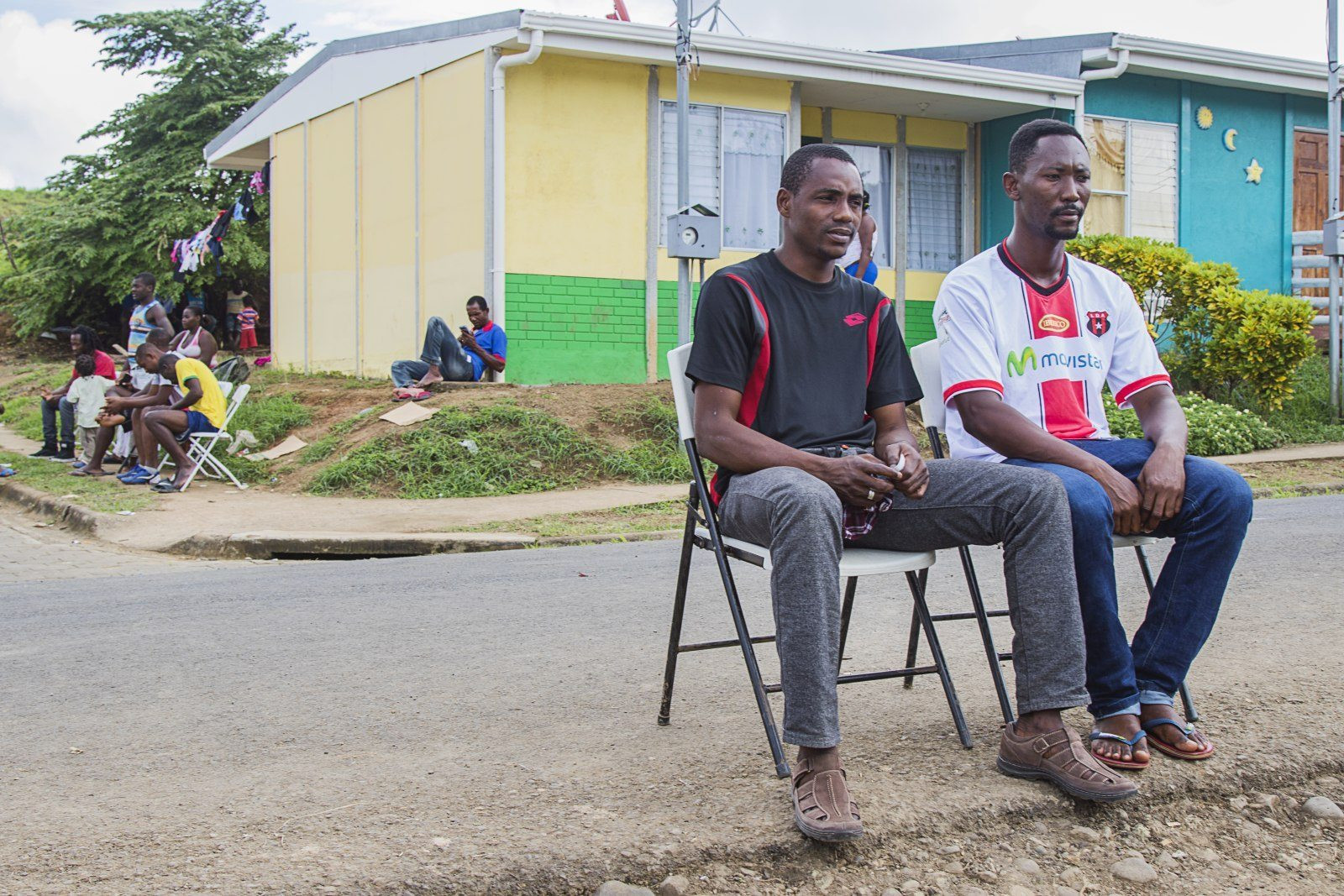 Mohammed Awal. Frank Boadi Nyaneke. Ghana. Awal: "I studied journalism and communication at Kumasi Technical University. When I finished college, I did not have work and I decided to start giving talks in schools and colleges. Although the constitution in my country guarantees freedom of expression, few people have the courage to criticize the government. I do and that is why I started receiving threatening messages via Whatsapp and Facebook." 
Nyaneke: "I had my own bar. I used the back part of it as a meeting place for the gay community because it is illegal and dangerous there. When neighbors found out, they burned the bar and my house and threatened to kill me."
Mitta opens her mouth to reveal badly infected gums. The gap where two teeth had been is now filled with swollen flesh that causes her jaw to bulge and forces her to chew her words before she speaks them.
Now 25, she says she fled Ethiopia six years ago after she began to speak out against the government.
"I said what I felt," she says in English, dragging out the vowels. "They were going to kill my parents if I stayed there."
Her journey led her to Brazil, where she worked in a hair salon. But she had to leave there, too, when two men began fighting over her attention and threatened to kill her. From Brazil she traveled to Peru, Ecuador, Colombia, Panama and Costa Rica.
­–What was the most difficult part of the journey?
–Reaching Nicaragua.
Although there is a large police barrier preventing undocumented migrants from crossing into Costa Rica from Panama, the southern border is porous, and there are even some stores where you enter in one country and leave in another, says Herrera, the communications minister.
"Last week between 100 and 150 people entered (Costa Rica) each day. That's unsustainable for a small country like Costa Rica," he says.
At Paso Canoas, on Costa Rica's southern border, undocumented migrants are placed under an immigration protocol that allows them 25 days in the country. Officials take their fingerprints and try to determine their identities, and a basic medical checkup is offered. All of the country's community health clinics, known as Ebáis, in these areas of migration are under orders to administer care to the migrants.
–I'm in a lot of pain, so much pain, but I don't want paracetamol for my teeth. The government has been good to us, but I don't want to stay here. I want to continue to the United States.
–Do you have someone waiting there for you?
–No, I don't have anyone.
–What do you hope to find in the United States?
–Education. I want to study politics to liberate my country. I want freedom for my people.
But wanting something requires an unimaginable degree of patience when hope is so illusory. As their watches strike 10 p.m., some migrants retire to bed. Sammuel takes pills to relieve his muscle pain and lies down on a foam mat with a blanket over his face. Next to him, a Muslim man quietly prays. Tomorrow is another day – one that most likely will be the same as today.