Esta publicación también está disponible en:
Español

Diverting water from the Lajas River, which feeds the Madrigal Lagoon, and impacting the use of a wooded area about 31 hectares (77 acres) in size are among the charges faced by Rafael Angel Zamora Fernandez, owner of the company Pedregal S.A.
Zamora was sentenced in August of 2015 in the Liberia courts and given two and a half years in prison on charges of unlawful appropriation of water, appropriation of public property, violation of wildlife law, violation of forestry law and impact to the protected areas law and the mining law.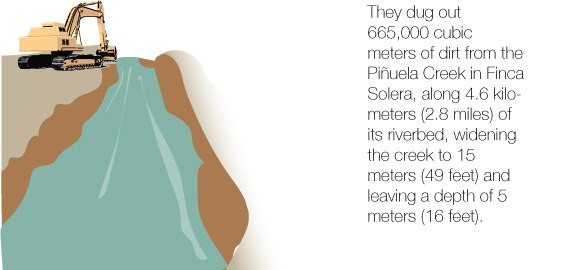 The sentence is not yet final because it is under appeal. Since the case is still open, it was not possible to obtain more details on the status of the appeal.
The actions in question occurred between 2008 and 2011 in the sector of San Miguel of Cañas, Guanacaste.


According to the complaint filed, during that period, Zamora ordered his laborers to open roads in wooded areas of his property, La Marcela, destroying trees and transforming 31 hectares of forest into pasture. Damages were estimated at ¢185 million ($350,000). He was also accused of diverting the course of the Lajas River to irrigate his adjacent farms. Diverting water from the Lajas River flooded several sugar cane plantations in the surrounding properties of Ingenio Taboga S.A.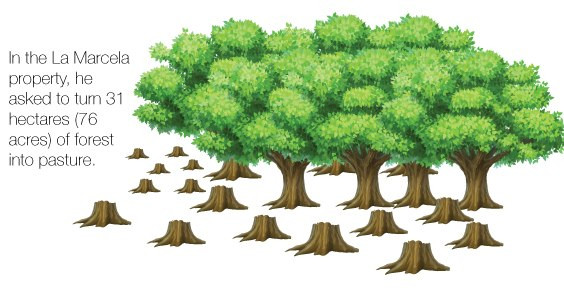 The flooding also affected crops in 2008 and 2009, the losses of which have not yet been calculated.
In addition, diverting water from the Lajas River, which feeds the Madrigal Lagoon, caused it to lose flow and therefore affected the habitat of many aquatic species in the area.
Alexander Leon, director of the Arenal Tempisque Conservation Area (ACAT- Área de Conservación Arenal Tempisque), said that the area affected by Zamora is very sensitive and has great ecological value.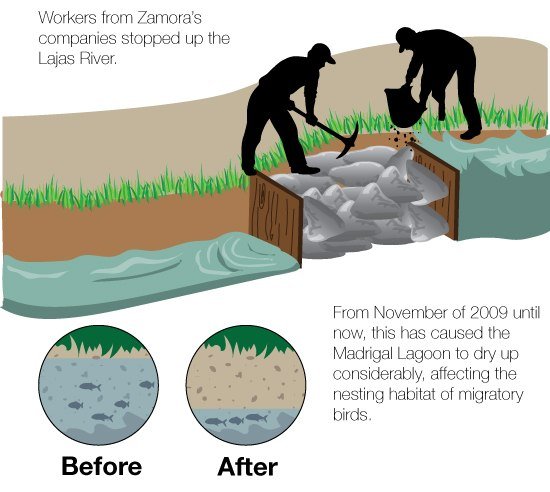 "By completely modifying the conditions of such a vulnerable ecosystem like Madrigal Lagoon, those mainly affected are the birds that usually come to these sites for reproduction processes. This area is declared as a Ramsar site (wetlands of international interest) due to the variety of aquatic species that live there," Leon said.
In this wetland, aquatic species from the region live side by side with migratory species, blue-winged teal ducks, blue herons and black-necked stilts and native species such as roseate spoonbills, black-bellied whistling ducks, northern jacana, boat-billed herons, and jabirus, an endangered species that saw its ecosystem and habitat threatened, so many of them migrated to other places like the Tempisque River, Monte Verde Lagoon or Mata Redonda.
Alexander Leon is confident that the sentence will be finalized. However, he pointed out that there is already a precedent for reversal of sentence for a similar case with the company Pedregal S.A.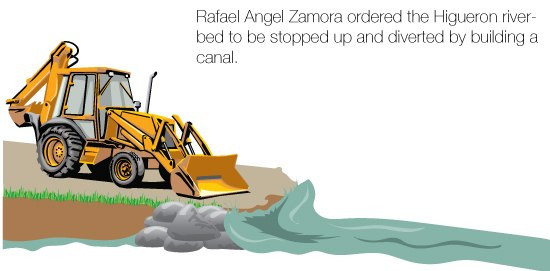 "I hope that the court upholds the sentence because if that were not the case, we would have to publicly denounce (issue a statement) the sour taste this would leave that cases like this go without a conviction. We have already had negative precedents with the same company and similar cases where there was a conviction, and during an appeal stage, the sentence was annulled. I have full confidence that this time the sentence will stay firm, because otherwise it would be worrisome," Leon said.
The Voice of Guanacaste tried to talk to a representative of the company Ingenio Taboga S.A. and to Zamora's defense lawyer. However, after multiple calls and messages, it was not possible to contact them.